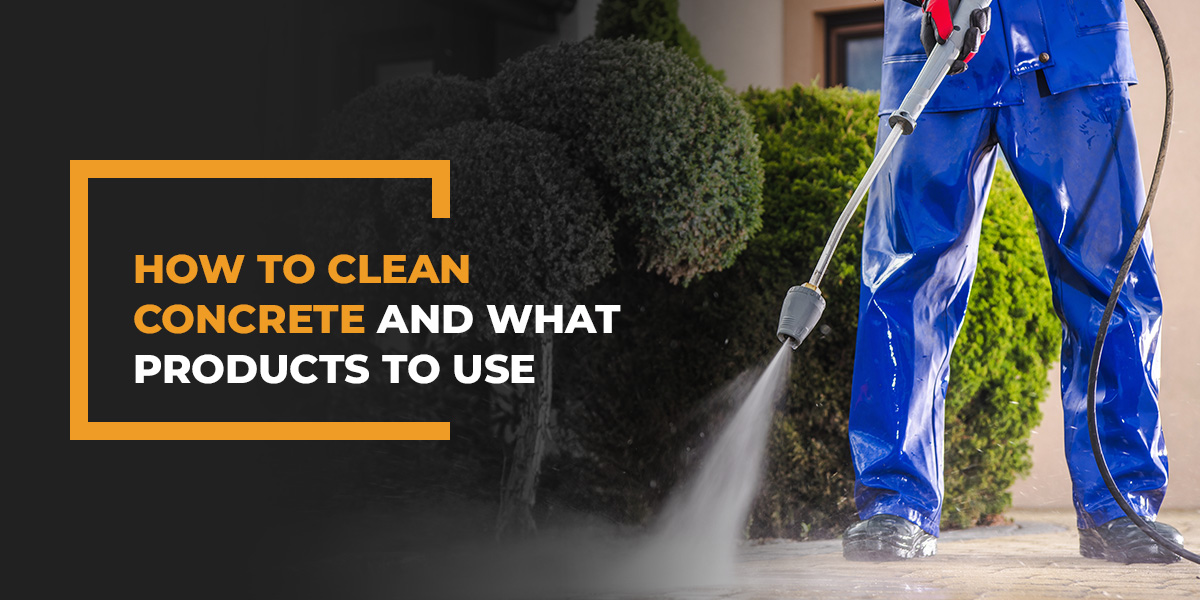 If you need to clean concrete on a commercial property you manage, a few different chemicals and cleaning methods can make the job simple. By following a few easy steps, you can restore the look of your concrete and make it appear nearly new again.
Learn more about how to clean concrete and what products to use.
What Is the Best Chemical to Clean Concrete?
When it comes to cleaning concrete, there are a few different chemicals that are suitable for the job, including:
Vinegar and baking soda: A mixture of baking soda and vinegar on concrete can lift stains and kill mold without any harsh ingredients.
Bleach: Cleaning concrete with bleach is ideal for large areas. Because bleach is corrosive, you must never mix it with other cleaning agents and always wear protective gear.
Detergent: A powerful laundry detergent or dish liquid can effectively tackle grease stains on concrete surfaces.
Commercial concrete cleaner: Most concrete cleaning solutions contain a highly concentrated alkaline soap that breaks down oil, especially on porous surfaces.
Muriatic acid and ammonia: Using a mixture of muriatic acid and water a few minutes before applying a mixture of ammonia and water can lift especially tough concrete stains. Be careful not to mix ammonia with bleach, which creates chloramine, a toxic gas.
Trisodium phosphate: As an alkaline chemical, trisodium phosphate is safe to use on both treated and untreated concrete.
How to Prepare Your Concrete for a Deep Clean
When prepping a concrete surface for washing, you'll need a few things to make the process easier and more effective.
The following tools will help you prep the area:
Protective equipment: Be sure to have all the gear like gloves and safety goggles to protect your skin and eyes from harsh chemicals.
Broom and dustpan: Sweep away any loose gravel or debris from the concrete's surface before cleaning.
Spray bottles: You can use a sprayer to saturate areas with especially tough stains on the concrete's surface.
Scrub brush: A scrub brush will come in handy after soaking stains. It's best not to use a metallic brush that can leave behind small pieces of metal.
Cat litter or baking soda: If your concrete has any standing liquid on it, you can use cat litter or baking soda to absorb the excess moisture and make the cleaning process a little easier.
Prepare your concrete by moving any furniture, such as tables or crash receptacles, and repairing any chips or cracks. Then you can follow a few easy steps to deep clean the surface.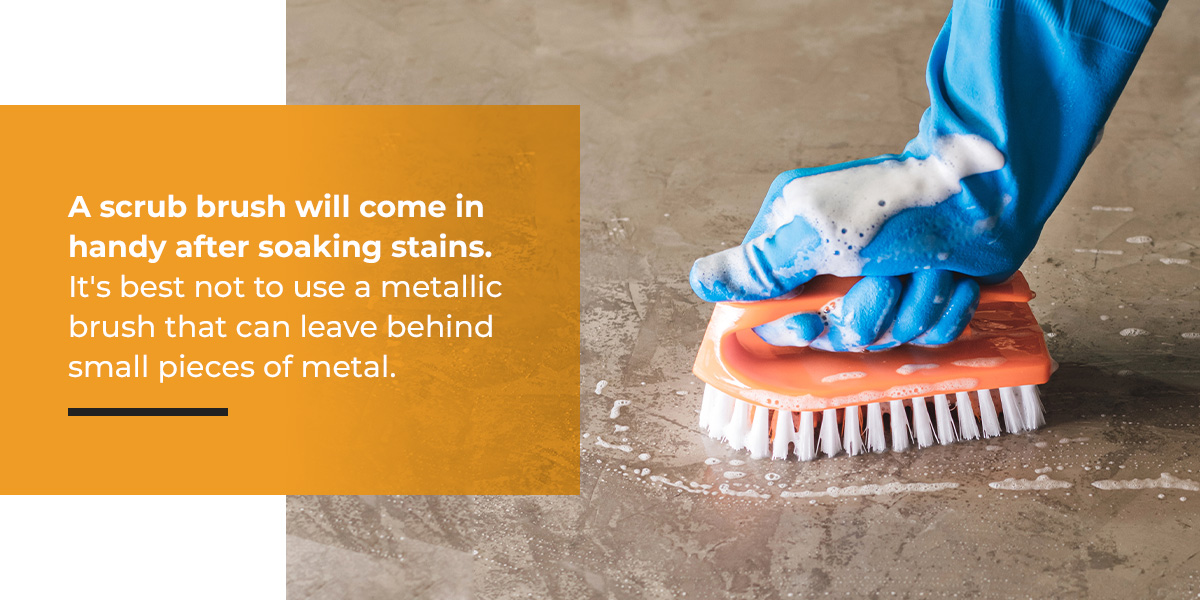 How to Wash Concrete
When tackling a concrete cleaning job, you'll follow a few steps to remove stains and add additional protection to the surface effectively. Here's how to wash the concrete on a commercial property you manage:
1. Determine the Concrete's Finish
The first step is assessing the concrete's finish. Determine if the surface is sealed, and if so, what kind of sealer it is.
The following are common types of sealers for concrete:
Acrylic sealers
Epoxy coatings
Polyurethane sealers
Penetrating sealers
Identifying these will help you decide on the right chemicals for the job. If you are unsure of the sealer, it is best to use mild cleaners to be safe.
2. Prepare the Surrounding Areas
Next, protect any surrounding areas with grass or plants before applying any sort of chemical that could cause harm. Saturate the surrounding plants with water using a garden hose to help keep them from absorbing any cleaning solution that runs off the concrete and permeates the nearby ground.
3. Treat Stains
After prepping the area, you should treat the concrete's surface stains, especially any stubborn ones. You can apply the chemicals or detergents directly to the tough stains and use a brush to scrub and lift the dirt and grime. Again, be mindful of the type of brush you choose for this job. Wire brushes can leave behind small metal pieces that often cause unsightly rust spots on your concrete over time.
4. Power Wash the Surface
Once you treat the stains properly, you can deep clean the surface using power washing. The strong current of water can penetrate the concrete's pores and drive out grease and dirt from deep within the surface.
For this job, you can use a mixture of water and a commercial concrete cleaner. If power washing alone does not effectively lift tough stains, like rust or dried mortar, consider applying muriatic acid to the site.
5. Apply a Protective Top Coat
Once you completely clean the area, you can apply a concrete sealer or top coat to prevent new stains from forming. Various protectant sealers offer different finishes and levels of protection against the elements.
Following these steps is the best way to clean concrete and restore it to be like new again.
Other Considerations for Cleaning Concrete
In addition to the previous steps for preparing and deep cleaning the concrete, you'll want to consider these critical factors:
Cleaning Unsealed Concrete
When dealing with unsealed concrete, do not use any harsh chemicals or cleaning agents that could damage the surface. Cleaning unsealed concrete is more challenging than tackling sealed surfaces. It is best to begin with a commercial cleaner such as trisodium phosphate. You can then use a scrub brush to help lift dirt and oil. If this method is ineffective, go with power washing.
Cleaning Bird Droppings
When dealing with concrete surfaces that have a lot of bird droppings and stains, it may be surprising to learn that dish detergent is the best cleaning solution for the job. You can mix the detergent with white vinegar and water, then apply it to the area. Let it soak, and then clean it using a scrub brush and water to wash it away.
Utilize ToriTom Services for Your Pressure Washing Needs
Are you searching for a trusted partner for your concrete maintenance and repair needs? At ToriTom Services, we can help with your concrete needs. Our services range from pressure washing to concrete repair so you can maintain the commercial property you manage to the highest standards.
We understand the value of exceptional customer service and prioritize ongoing communication at every stage of the process. In addition to in-person assessments and follow-ups, we offer a one-year warranty with all our services to ensure you are always content with our work.
Interested in learning more? Explore the add-on property maintenance services from ToriTom Services, or reach out today!