Commercial Concrete Repair
in Florida
If you have concrete on your business's property, or you're a commercial property manager, you know that this material is durable and strong. However, it won't last forever. You may have noticed your concrete surface cracking or your sidewalk sinking — among other concrete issues. If you've noticed these problems, call ToriTom Services for concrete repair.
What Causes Concrete Damage?
While concrete is known for its durability, it can show signs of damage for various reasons. When a concrete surface is exposed to enough of an element or environmental factor, it will start to wear away. Potential causes of wear include:
Corrosion: Reinforcing steel inside concrete structures can start to corrode over time. Rust has a higher volume than steel and puts stress on the concrete as it develops, causing cracks and other damage.
Freezing and thawing: When water freezes, it expands. If concrete is wet in freezing temperatures, the ice can exceed the material's tensile strength and cause stress cracks. Additionally, the concrete is more likely to wear out prematurely if it sees frequent freezing and thawing. 
Chemicals: While concrete is known to hold up to different types of chemical exposure, it's not immune. Specific salts, acids and sulfates can weaken concrete over time.
Abrasion: Ongoing rubbing or friction will lead to eroded concrete with enough time. Abrasion and the resulting erosion are most common in concrete used for parking lots and roads where heavy equipment frequently rolls over the surface.
Heat and fire: Concrete holds up well in most temperatures, but when exposed to extreme heat or fire, it will lose stiffness and strength.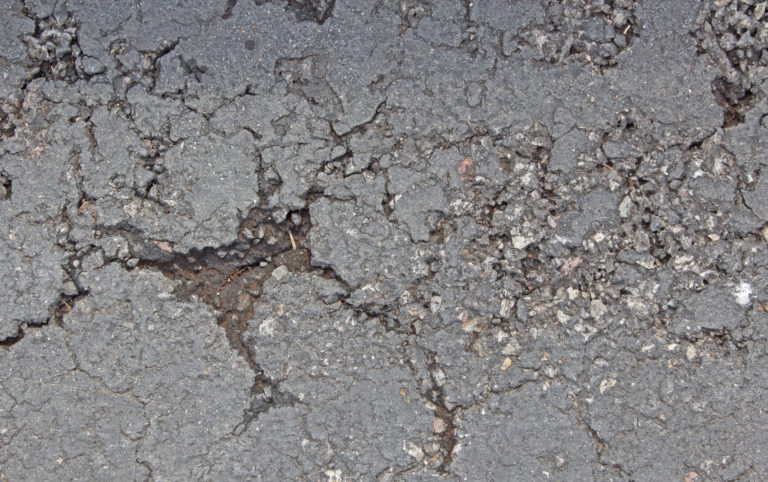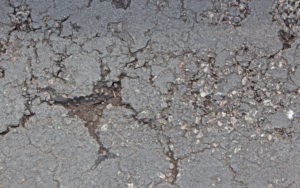 When Do You Need Repairs?
You may wonder if you really need concrete repairs or not. After all, some concrete cracks are barely noticeable, right? While you can probably ignore tiny chips and cracks for now, most issues require professional repairs, including:
Cracking: If you have large concrete cracks running through your sidewalk or driveway, you should call us for crack repairs. The crack will only get worse as the years go on.
Scaling and spalling: If you've noticed large patches where the concrete has chipped or flaked away, you have scaling. This issue is from poor installation, water seepage, or a lack of curing, and it can spread. Call us for quick patch repairs.
Discoloration: If you have a commercial or rental property and you need your concrete to look good, discoloration can be a real problem. We can clean and stain your concrete to make it look brand new again.
Erosion: Minor erosion isn't a problem, but when you concrete suffers enough abrasion, the structural integrity of the structure comes into question. Let us protect your concrete to increase its longevity.
ToriTom Services can address all of these concrete surface issues and perform industrial concrete repair and restoration services throughout Florida, so give us a call today.
Commercial Concrete Restoration in Florida
When the team at ToriTom Services comes to your property for concrete restoration, we'll use various techniques to bring your concrete surfaces back to optimal condition. We'll assess the damage and make sure we address all signs of wear, repairing any scaling, cracking or erosion.
The restoration process starts with cleaning your surface with a power washer, whether it's a sidewalk, parking lot or walkway. From there, we can fill in the holes and cracks with mortar. Once we make these repairs, we can move on to resurfacing. We prime the surface and apply a thin layer of concrete to the area to act as a finish for your repairs.
After we finish your new surface with a sealant, the concrete will have to cure for a couple of days. When the curing process is complete, you'll have concrete that looks new, and your tenants will be happy with the appearance upgrade.
What Are the Benefits of Getting Your Concrete Repaired?
Whether your concrete surface has cracks, scaling and spalling, discoloration or erosion, repairing the issues will provide your property with benefits such as:
Creating an aesthetically pleasing exterior: The sidewalk and curb are some of the first things people will notice about a business. Repairing unsightly concrete issues can help boost the curb appeal and first impression of your commercial property and your tenant's business.
Ensuring a safe surface: Concrete damage ranging from large patches to cracks can create an uneven surface, putting tenants, visitors or employees at risk for falling and injuring themselves. Repairing these damaged surfaces ensures that your property is safe for people of all ages.
Preventing future damage and repairs: Small cracks can begin to compromise the integrity of the property's concrete. Over time, these minor cracks can expand and lead to problems that are more involved and costly to repair.

Why Should You Hire Us?
Here at ToriTom Services, we have years of experience in the asphalt and concrete industry, so you can trust us with any concrete repairs you need. We're also a family-owned business, so we make sure to treat each of our customers with the respect and care that they deserve.
No matter the size or scope of your concrete repair project, you can always expect us to communicate with you every step of the way. You'll receive itemized bids for your project because we believe you deserve transparent pricing.
Our upper management also frequently checks in with the rest of our team to ensure every aspect of the project is being completed on time. If you have any questions at any point in the job, we have a quick response time. And once your project is complete, we'll follow up with you to ensure your concrete repair project is exactly as you envisioned it. 
Interested in Learning More About Our Concrete Repair Services? 
Trust us to be your single source for all your concrete repair needs. Along with delivering exceptional concrete repair services, we provide a one-year warranty on all concrete repair work to ensure it performs as expected. We are proudly servicing cities throughout Florida.
Ready to get started? Call us today at 941-932-2593 or fill out our contact form if you have any questions or would like to receive a quote.