Pothole Overlay and Resurfacing
Pothole Overlay & Resurfacing Services
A pothole is an area where the asphalt or concrete has opened up, allowing water to penetrate the surface.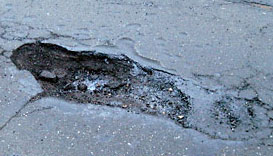 Potholes can create both aesthetic and physical problems in any parking lot. It's best to schedule repairs as soon as you notice a pothole.
How Is a Pothole Made?
Repeated pressure from car tires and heat exposure lead to potholes. In warm climates, excessive heat causes cracks in the surface, which lets water into your asphalt and does further damage. The heat and water exposure form air gaps under the surface, and they erode the asphalt over time, creating potholes.
Why Is It Important to Repair Potholes Professionally?
Do-it-yourself (DIY) patching comes undone and only repairs the erosion temporarily. Potholes spread as soon as they form, so patching fails to solve the problem permanently. A professional repair can save you money on future services and give you a strong asphalt overlay.
Avoid DIY patches and contact us for our 20-minute pothole repair.
What Are Resurfacing and Overlay?
Resurfacing and overlay involve layering about two inches of asphalt over the existing surface to smooth and fill any cracks or potholes. Instead of completely removing the old asphalt, it serves as a base for the new material during this process.
What Are the Benefits of These Services?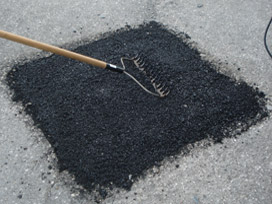 The benefits of overlay and resurfacing include:
Heightened safety: Motorists can drive safely without swerving to avoid running over potholes.
Cost efficiency: We can eliminate the problem in just 20 minutes and save you the money associated with DIY patches.
Improved appearance: Potholes are an eyesore, but a new overlay shows others you care about your property and will invest in its appearance.
How Can I Request More Information?
Toritom Services can help you with your next resurfacing or overlay project from cities including Tampa, Orlando and many more. We specialize in commercial properties of all sizes, from retail locations to apartment complexes.
To request more information, you can contact us online or call 941-404-5164. We'll set you up with a quote and answer your questions.