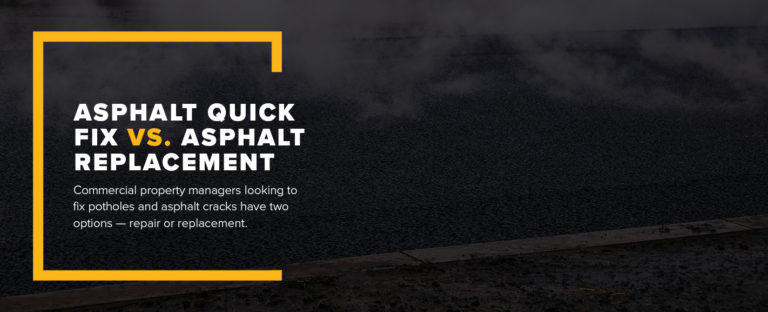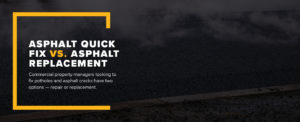 Commercial property managers looking to fix potholes and asphalt cracks have two options — repair or replacement. Each option has its time and place, and our team is here to help you determine the right choice for the property you manage.
Asphalt Quick Fixes
When damage is minor, quick fixes like patching can help prevent further deterioration that could result in more expensive repairs later.
Patching is the most common type of quick fix for asphalt, and it works best for minor holes and cracks. Professional asphalt repair companies typically handle these jobs by saw-cutting out the damaged area and installing and compacting new asphalt to replace it.
Other concerns call for more labor-intensive asphalt repairs, such as resurfacing. These types of repairs involve adding a new surface layer of asphalt to an existing roadway or commercial parking lot. Since the original asphalt remains underneath, these projects differ from replacement.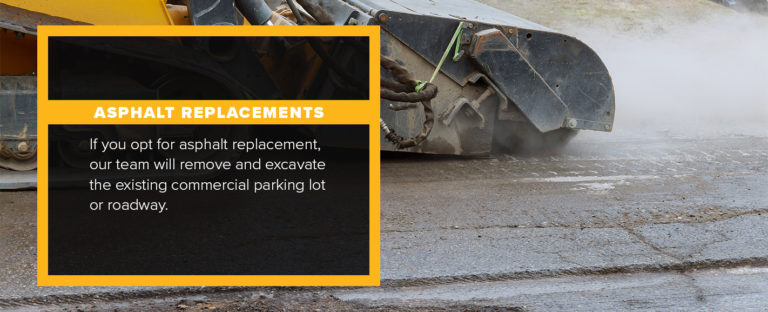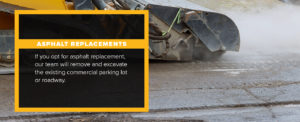 Asphalt Replacements
Sometimes the severity of damage on an asphalt driveway or parking lot is more complex than a crack or a small pothole. If you find that the asphalt on the property you manage has needed a lot of work recently or that repairs will cost more than new asphalt installation, it's probably time to replace it.
If you opt for asphalt replacement, our team will remove and excavate the existing commercial parking lot or roadway. We'll fix any issues with the subgrade and start the new asphalt installation process by laying and compacting it.
When to Fix Asphalt or Replace It
Repair jobs like patching are ideal for small blemishes or damages, such as cracks and holes.
In other cases, replacement might be the right call. Here are some signs that it might be time for a fresh start:
The asphalt's foundation is no longer stable.
More than 25% to 30% of the pavement requires repair.
The cracks in the asphalt are over ¼ of an inch wide and several inches deep.
The asphalt is over 20 years old.
Contact ToriTom Services Today for Asphalt Services
ToriTom Services is your trusted partner for asphalt repair and installation services. Our team provides patching and resurfacing work and commercial asphalt installation. If you're not sure whether you need repairs or replacement, we're here to help you decide. Contact us today to learn more or discuss your next project.