A parking lot is the first experience that your tenant's customers have of their business, organization or shopping mall etc. It is important to have good pavement marking and parking lot striping. A poorly striped and painted parking lot can confuse and frustrate customers in which direction to go, where the correct parking bays are, potentially be blamed for accidents and even lead to road rage arguments between customers. All of which are potential lawsuits as well as being very off-putting to customers leading them to choose to go to your competitors instead!
We can restripe parking lots based upon existing successful designs, or create a new ADA Compliant stripe layout designed to ensure customers know where they should drive, park and walk. We aim to ensure a superior parking experience with improved traffic flow, improved efficiency and ensuring public safety with our line striping maintenance services.
Avoiding Liability with Regularly Maintained Parking Lot Striping
Responsible companies and organizations will naturally want a safe parking environment for their customers and ensure that their parking lot is properly painted and up to code.
However when parking bay lines are missing or faded there is no guidance on where to park, drive or for pedestrians to safely walk. This can easily lead to code violations, car door dings and even more serious accidents which will likely result in your tenant's company being cited as the responsible party, potentially making you liable as the commercial property manager.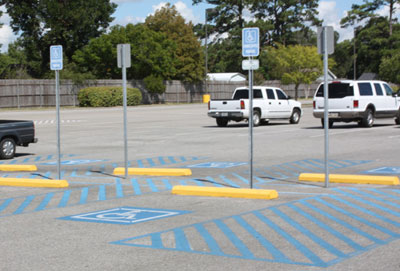 Encouraging Customers with an Appealing Parking Lot
The parking lot is often the first experience that a customer will have with your tenant's business. A poorly maintained parking lot with missing, faded, cracked painted striping gives an immediate negative impact and makes a very poor statement.
However, a nice fresh painted parking lot starts the customer experience on a positive note. It says that you care about your customers and thus when it comes to their purchase or services, you will likely care about that experience as well.
Large stores and shopping malls know how important parking lot curb appeal is and make it a priority to ensure that their parking lot is inviting to customers. One way you can ensure this is achieved for your tenant's as a property manager is with regular parking lot maintenance to refresh parking lot striping and painting on an ongoing basis.
Improved Traffic Flow & Efficiency with Parking Lot Striping
We have all experienced the occasional parking lot where we get frustrated because we can't see the signage where to go or the traffic flow leads to awkward turns, congestion or endangering the public as they run the gauntlet of cars just to get to the building entrance.
Our high-quality paint is long-lasting and highly visible to drivers. Clearly painted parking bays makes it easy for drivers to drive into or back into, thus decreasing their maneuvering time and avoiding holding up other parking lot users.
We paint highly visible disabled parking bays which encourage people with disabilities to use your parking lot, which are positioned besides safe pedestrian walkways or near the entrance of the premises. Our prominent painted disabled parking bays also ensures that there is no excuse for non-valid parking in these bays.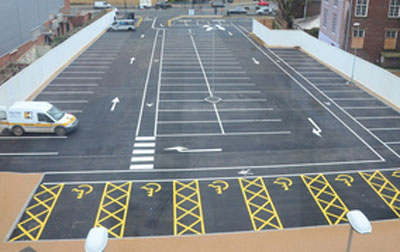 Clearly painted parking lot ground signage are even more important to pedestrians as they can follow designated paths in safety and also increases efficiency as they will be less likely to hold up cars as they drive around the parking lot.
Related Parking Lot Services
We are regularly asked by customers for added services such as replacing wheel stops, parking signage, curb painting, etc. We can do many of these additional services either ourselves or project manage the project by hiring reliable subcontractors.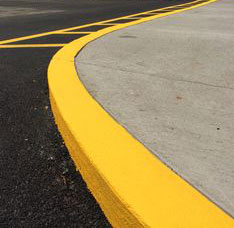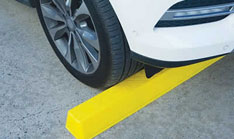 Update Your Parking Lot With Toritom Services
Toritom Services has comprehensive solutions for maintaining and painting a commercial parking lot. Whether you need striping added to a new parking lot, parking bays repained, or regular parking lot striping and painting maintenance, we have experienced professionals who can assess and improve your parking lot. Through regular maintenance, parking lot striping and sealcoating with Toritom, you can extend the life span of a parking lot's asphalt pavement to as long as 20 to 30 years. 
At Toritom Services, we can design a new custom parking area or perform parking lot striping to revive a current layout. We are also educated on ADA-compliant design and will update a parking lot to meet the needs of every tenant and their guests. To learn more about our products and services, contact us online today.