COMMERCIAL PARKING LOT
STRIPING
COMMERCIAL PARKING LOT STRIPING
A parking lot is the first experience that your tenant's customers have with their business, organization or shopping mall. To make the tenant and customer experience a good one, a lot will need clear stalls, directional arrows and labels. At ToriTom Services, we offer commercial asphalt parking lot striping and pavement markings to keep parking areas organized and user-friendly.
We can restripe parking lots based upon existing successful designs, or create a new ADA-compliant stripe layout designed to ensure customers know where they should drive, park and walk. We aim to ensure a superior parking experience with improved traffic flow, efficiency and public safety with our line striping maintenance services.
Avoiding Liability With Regularly Maintained Parking Lot Striping
Responsible companies and organizations will naturally want a safe parking environment for their customers and ensure that their parking lot is properly painted and up to code.
However when parking bay lines are missing or faded there is no guidance on where to park, drive or for pedestrians to safely walk. This can easily lead to code violations, car door dings and even more serious accidents. Your tenant's company may even be cited as the responsible party, making you liable as the property manager.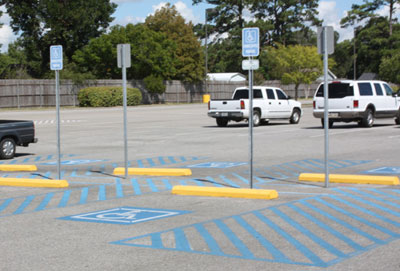 Encouraging Customers With an Appealing Parking Lot
The parking lot is often the first experience that a customer will have with your tenant's business. A poorly maintained parking lot with missing, faded or cracked painted striping gives an immediate negative impact and makes a very poor statement.
However, a nice fresh painted parking lot starts the customer experience on a positive note. It says that you care about your tenants and their customers, and thus when it comes to their purchase or services, you will likely care about that experience as well.
Large stores and shopping malls know how important parking lot curb appeal is and make it a priority to ensure that their parking lot is inviting to customers. You can achieve this for your tenants by regularly maintaining your property's parking lot striping.
Improved Traffic Flow & Efficiency With Parking Lot Striping
We have all experienced the occasional parking lot where we get frustrated because we can't see the signage where to go or the traffic flow leads to awkward turns, congestion or endangering the public as they run the gauntlet of cars just to get to the building entrance.
Our high-quality paint is long-lasting and highly visible to drivers. Clearly painted parking bays makes it easy for drivers to drive into or back into, thus decreasing their maneuvering time and avoiding holding up other parking lot users.
We paint highly visible disabled parking bays which encourage people with disabilities to use your parking lot and frequent your tenant's business. We position these stalls beside safe pedestrian walkways or near the entrance of the premises. Our prominent painted disabled parking bays also ensures that there is no excuse for non-valid parking in these bays.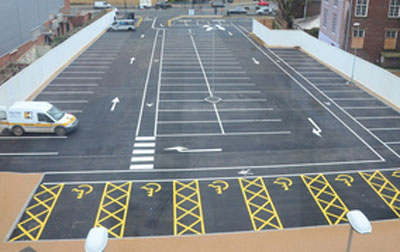 Clearly painted parking lot ground signage is even more important to pedestrians as they can follow designated paths safely. Ground signage also increases efficiency in the lot because drivers will be less likely to hold up other cars as they drive around the parking lot.
Related Parking Lot Services
We are regularly asked by customers for added services such as replacing wheel stops, parking signage, curb painting, etc. We can do many of these additional services either ourselves or project manage the project by hiring reliable subcontractors.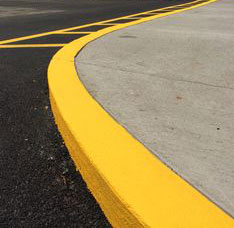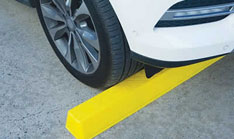 We Use Durable Paint for Long-Term Visibility
At ToriTom Services, we believe in using the highest-quality materials to give you lasting surfaces and finishes. Our paint is no exception. We use the highest-grade paint available at Sherwin-Williams for our commercial parking lot striping services in Florida. 
This acrylic alkyd paint is specially formulated to adhere to concrete and asphalt. High resistance to chemicals and dirt ensures it lasts through heavy vehicle and foot traffic. Its high-visibility pigmentation makes it ideal for parking stalls, direction arrows and curb highlights, as it stands out at any time of day with any weather conditions.
These elements combined mean the paint we use stays brighter and cleaner for longer than other products on the market. It finds its way into the pores in cement and asphalt for concentrated, lasting color. Its formula also allows us to use brushes, rollers and spray to tailor its application to specific areas and give you the accuracy and detail you're looking for.
These paints meet stringent requirements for volatile organic compounds (VOC), so they're as safe as they are durable. Their quick drying also allows us to handle your commercial line painting efficiently, so your tenants can return to your lot in a short time. Our paint quality, paired with our dedicated team, makes ToriTom Services an excellent choice for your commercial parking lot striping needs anywhere in our Florida territory.


Update Your Commercial Property's Parking Lot With Painting Services from ToriTom
ToriTom Services has comprehensive solutions for maintaining and painting a commercial parking lot. Whether you need striping added to a new parking lot, parking bays repained, or regular parking lot striping and painting maintenance, we have experienced professionals who can assess and improve your parking lot. Through regular maintenance, parking lot striping and sealcoating with ToriTom, you can extend the life span of a parking lot's asphalt pavement to as long as 20 to 30 years. 
At ToriTom Services, we can design a new custom parking area or perform parking lot striping to revive a current layout. We are also educated on ADA-compliant design and will update a parking lot to meet the needs of every tenant and their guests. To learn more about our products and services, contact us online today.