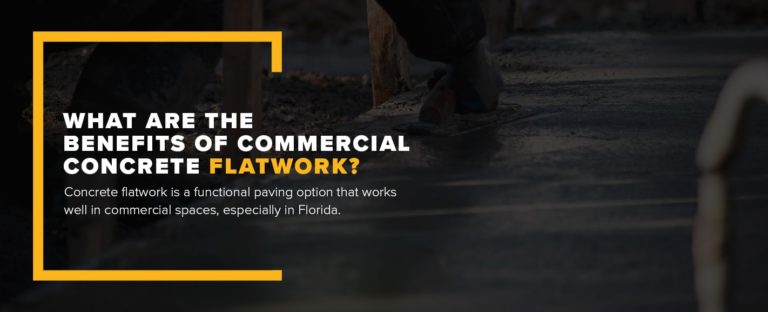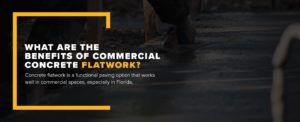 Concrete flatwork is a functional paving option that works well in commercial spaces, especially in Florida. Franchises, gas stations and other businesses in Florida often choose concrete for parking lots and sidewalks because it is better suited for the heat than asphalt. Here's what you need to know if you're considering adding concrete to a property you manage.
What Is Concrete Flatwork?
As the name suggests, concrete flatwork refers to any kind of concrete that's laid on a flat area. To complete a concrete flatwork job, the first step is to excavate and pour the base. Then, forms must be built and set, including working with rebar and wire mesh. Once that's in place, the concrete is poured and shaped using various equipment.
Concrete Flatwork Benefits to Consider
Concrete flatwork provides numerous benefits for property managers, including:
Durability: One of the most durable materials for commercial properties, concrete flatwork often lasts up to 30 or 40 years without major repair work or repouring. Weeds and other plant life are less likely to break through it than other materials.
Maintenance: Concrete flatwork requires little maintenance and upkeep. Since it's so strong, it can withstand wear and tear much better than wood or stone.
Cost-effectiveness: Concrete is available at competitive prices, and it has lower repair costs than asphalt and other options. While it has a higher upfront cost, it is generally considered more cost-effective than asphalt.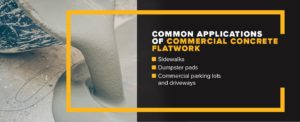 Common Applications of Commercial Concrete Flatwork
Property managers at commercial locations can use concrete flatwork in numerous ways, including:
Sidewalks: Sidewalks are some of the most popular forms of concrete flatwork at business locations. Sidewalks are laid by pouring concrete into different sections with an expansion joint that acts as a divider.
Dumpster pads: All businesses need a dumpster and a foundation to place it on. Concrete dumpster pads are sturdy and easy to clean, making them an excellent option.
Commercial parking lots and driveways: The parking lot on a commercial property says a lot about the business. Concrete flatwork provides a smooth, sturdy surface for vehicles to drive on.
Contact ToriTom Services Today
At ToriTom Services, we install concrete flatwork in whatever way a business property needs it — from sidewalks to parking lots at commercial properties. We offer quick response times and open communication between our team and yours. Reach out today to start discussing your next project.