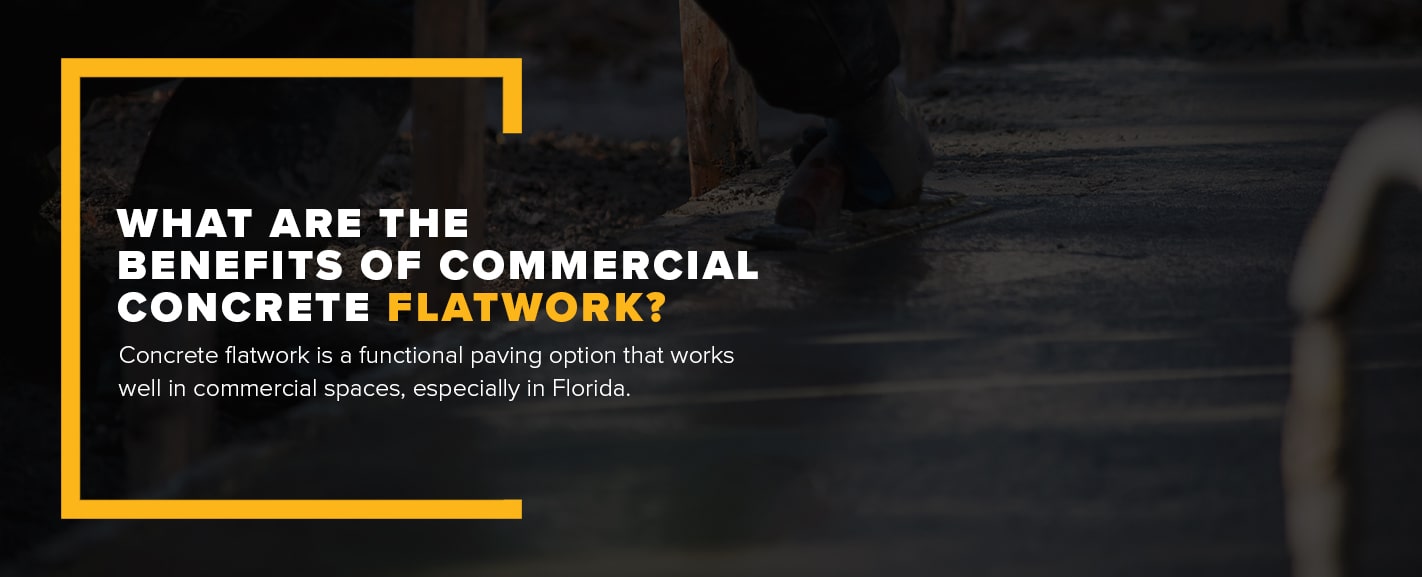 Concrete flatwork is a functional paving option that works well in commercial spaces, especially in Florida. Franchises, gas stations and other businesses in Florida often choose concrete for parking lots and sidewalks because it is better suited for the heat than asphalt. Concrete is also easy to care for since you can complete many maintenance tasks yourself. Many commercial property owners further protect concrete flatwork with sealcoat. 
Here's what you need to know if you're considering adding concrete to a property you manage.
What Is Concrete Flatwork?
As the name suggests, concrete flatwork refers to any kind of concrete that's laid on a flat area. To complete a concrete flatwork job, the first step is to excavate and pour the base. Then, forms must be built and set, including working with rebar and wire mesh. Once that's in place, the concrete is poured and shaped using various equipment.
Concrete Flatwork Benefits to Consider
Concrete flatwork provides numerous benefits for property managers, including:
Durability: One of the most durable materials for commercial properties, concrete flatwork often lasts up to 30 or 40 years without major repair work or repouring. Weeds and other plant life are less likely to break through it than other materials.
Maintenance: Concrete flatwork requires little maintenance and upkeep. Since it's so strong, it can withstand wear and tear much better than wood or stone.
Cost-effectiveness: Concrete is available at competitive prices, and it has lower repair costs than asphalt and other options. While it has a higher upfront cost, it is generally considered more cost-effective than asphalt.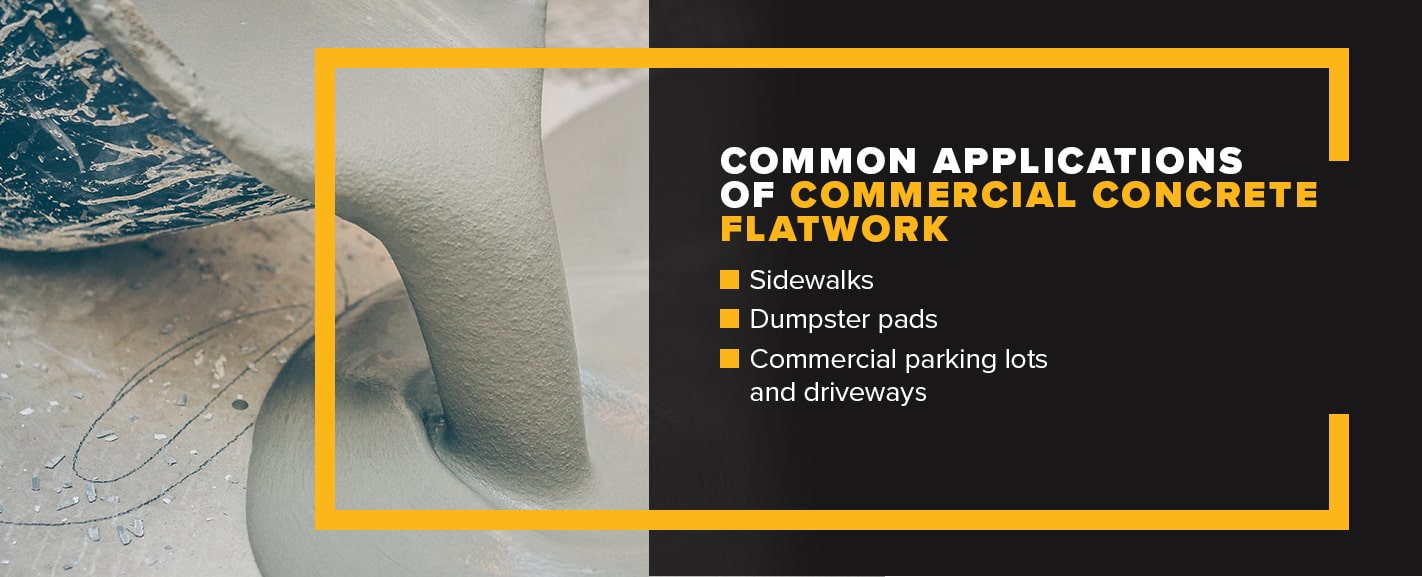 Common Applications of Commercial Concrete Flatwork
Property managers at commercial locations can use concrete flatwork in numerous ways, including:
Sidewalks: Sidewalks are some of the most popular forms of concrete flatwork at business locations. Sidewalks are laid by pouring concrete into different sections with an expansion joint that acts as a divider.
Dumpster pads: All businesses need a dumpster and a foundation to place it on. Concrete dumpster pads are sturdy and easy to clean, making them an excellent option.
Commercial parking lots and driveways: The parking lot on a commercial property says a lot about the business. Concrete flatwork provides a smooth, sturdy surface for vehicles to drive on.
How to Maintain Concrete Flatwork
Concrete flatwork maintenance helps the concrete look great and perform well for longer. Protecting your investment in concrete flatwork is simple. Follow our tips for maintaining concrete flatwork:
Clean regularly: Remove dirt, debris, rust and stains, so the concrete is clean and looks its best. Several cleaning methods can get the job done, and we recommend cleaning concrete surfaces at least once yearly.
Repair cracks and damage: If you notice cracks in the concrete flatwork on your commercial property, it's best to repair the damage immediately. Repairing concrete maintains a structurally sound surface and minimizes water intrusion, which can cause issues with the subgrade.
Seal concrete joints: Joints in concrete flatwork need to be sealed right away. Sealing reduces water intrusion and eliminates dirt collection and weed growth.
Remove stains immediately: Clean up spills on the concrete as soon as it happens. Allowing the product to sit on the concrete can discolor the surface, even if the concrete has a sealcoat.
Restrict heavy machinery and oversized vehicles: As durable as concrete is, it's not intended to hold moving trucks, delivery trucks and other heavy vehicles. Keep these vehicles on the street, and let the concrete parking lot at commercial properties handle cars and lightweight machines.
Avoid harsh chemicals: Chemicals and concrete don't pair well — chemicals can stain and damage concrete, even with a sealcoat in place. When cleaning concrete, use concrete-specific cleaners and follow the directions.
Seal the surface: Applying a sealcoat to concrete can repel water, dust, abrasion and ultraviolet (UV) light.
Can You Sealcoat Over Concrete?
Sealcoating over concrete is possible, and it's a proven way to protect the quality and condition of the concrete. Concrete with sealcoating needs fewer repairs and lasts longer because the sealcoat protects from water, vehicle fluids, UV rays and more. 
During the sealcoating service from ToriTom Services, we apply a durable outer coating to concrete surfaces. Existing concrete work is ready for sealcoating once all the chips or cracks have been repaired. For new concrete pours, we recommend applying a sealcoat to the concrete at least one month after installation to allow the concrete to cure properly.
The kinds of sealers that work with concrete include water-based, acrylic, urethane and more. Sealcoat can be applied by hand with a brush or machine. Each sealing chemical and application method offers unique benefits and has ideal uses. 
ToriTom Services will help you understand available options to find the best solution for the commercial property.
Contact ToriTom Services Today
At ToriTom Services, we install concrete flatwork in whatever way a business property needs it — from sidewalks to parking lots at commercial properties. We offer quick response times and open communication between our team and yours. Call 941-932-2593 or reach out today to start discussing your next project.