Commercial Asphalt Sealcoating
Services
Commercial Asphalt Sealcoating Services in FL.
Sealcoating is vital for keeping a commercial property's parking lot beautiful and protecting it from the elements, premature cracking and other sources of damage. Our team preserves and seals the asphalt surface with a thick, tarlike substance. Once we apply the protective layer, the parking lot is protected against water, oil and UV damage.
Before we apply sealcoating on commercial asphalt, we clean the entire lot of dust, dirt and debris. Then, we apply primer over oil and chemical spots where the sealant may struggle to stick. After priming, our team can fill in any cracks with a quick patch. These minor repairs will ensure the sealed surface looks pristine.
With all prep work complete, we can apply the commercial blacktop sealcoating with a brush. The team will apply at least two coats to ensure even coverage and ultimate protection. 
Since the sealcoating covers any directional arrows and parking spot lines, our team will handle the striping process to replace these safety features. The sealant will have to dry overnight, but it will be ready for restriping the following day. We'll ensure the managed property's lot markings are clear and accurate, and once the process is complete, we'll leave a clean and protected parking lot surface.
While you can't stop the elements from getting to a parking lot, you can be proactive about keeping it in good shape. Sealcoating is a simple and accessible way to increase the life span of a property's lot and save on big repairs and replacements in the long term.
We offer a free no-obligation quote for our asphalt sealcoating processes. Simply call us at (941) 932-2593 and one of our experts will be in touch very soon.


Aesthetics
Asphalt areas such as car parking lots that are faded, grey or patchy gives the impression that whoever is managing it shows little interest in providing the customer with an initial positive impact. In contrast, a dark black sealant provides color uniformity over the area and simply lifts the aesthetic appeal to look new, providing an initial positive impact that the owners care about.
Asphalt Sealcoating Benefits
Reducing Water Penetration
When water comes in contact with unsealed asphalt and is allowed to form puddles it can penetrate into the asphalt and breakdown the chemicals in the asphalt potentially weakening areas leading to cracks or divots. Over time divots in weakened asphalt areas can lead to potholes.
Asphalt UV Protection
Sealcoating the asphalt surface provides a sunscreen shield stopping UV rays from prematurely aging the asphalt and minimizes oxidation. If the asphalt surface does not have this protection it will turn grey in color and then oxidation of the tar will weaken and break down. Tar holds the asphalt aggregate together and so once weakened will cause crumbling.
Asphalt Sealcoating Prevents Vehicle Fluid Damage
Unsealed asphalt is exposed to the possibility of pre-mature breakdown from vehicle fluid drips/spillages; (gasoline, oil, transmission fluids etc.) and also looks very unsightly.
For example, when engine oil sits for any length of time on unsealed asphalt it will penetrate and start to break the asphalt down, leaving it more susceptible to cracking and crumbling. This in turn leaves the surface more susceptible to other threats such as water penetration thus compounding and exacerbating the problem. When we sealcoat the asphalt, the coal tars used in the sealcoat are impervious to gas and oil spillage.
Improved Surface Flexibility
Sealcoating is black in color which does not reflect the rays from the sun and absorbs the heat. The heat from the sun is actually a benefit as it makes the driving surface more pliable and thus helps it to withstand the rigors of being driven upon without cracking. By sealcoating the asphalt you benefit from the sun while still protecting the layer below from its harmful UV rays.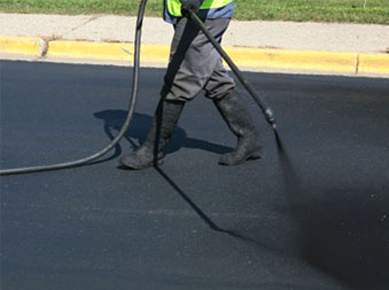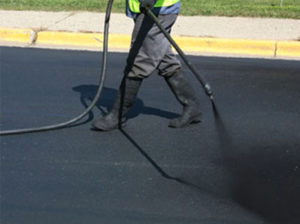 The Importance of Regular Asphalt Sealcoating
Regularly sealing asphalt — usually every two to three years — can help extend the life of the pavement. Because the asphalt is protected with sealcoating, you'll spend less money on repairs over the years. While factors ranging from sunlight exposure to water can impact its life span, a consistent maintenance program many times will more than double the life of the asphalt.
Without regular blacktop sealcoating, a parking lot may develop minor and severe surface cracks. These issues can widen, deepen and warp over time, representing significant hazards to your tenants and their vehicles. While these dangers can be a liability issue, they can also demand a full lot replacement. Sealcoating is a small upfront investment that prevents a sudden replacement expense.
Why Work With ToriTom Services?
Here at ToriTom Services, our family-owned business specializes in asphalt maintenance and repair. We understand what it takes to keep asphalt looking and functioning as it should — all at an affordable price.
We believe in regular communication with every client, so you'll always understand our plans for the day. Managing properties is a big job, and you need your maintenance team to work with your unique needs. At ToriTom Services, we're also transparent with our pricing, eliminating concerns about hidden fees or unexpected costs when you want to maintain a commercial parking lot.
Our employees take pride in their work, whether they're sealing a lot or laying a new one. You can expect exceptional quality, efficiency and honesty in everything we do for managed properties.
Contact Us Today for a Quote
No matter your needs, ToriTom Services will complete an asphalt sealcoating project within a reasonable amount of time. With our professional, prompt services and one-year warranty, you can trust that we'll do what it takes to ensure you are completely satisfied with the results.
Have any questions about the sealcoating process or want to get started? Reach out at 941-932-2593 or fill out our contact form to receive a quote on our asphalt sealcoating services.