ASPHALT REPAIRS –
POTHOLES OVERLAY / RESURFACING
Potholes
Once the asphalt or concrete parking lot opens up and water is allowed to penetrate to the surface below, problems can grow very quickly.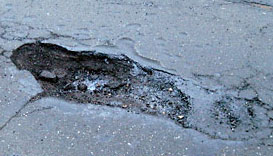 If you notice a pothole, it is far most cost effective to repair the pothole as soon as you can.
We have found that DIY amateur cold patch repairs very rarely work and the only way to get a good and long lasting repair is by using a hot asphalt mix.
Unlike traditional methods, we use a unique patented infrared technology which penetrates deep down through the damaged surface area. The process creates a strong thermal bond between the surrounding road surface and new repair to establish a new permanent mend.
Each repair takes approximately 20 minutes from start to finish, significantly faster than alternative repair methods. By using our process, your roadway or parking lot will be accessible to customers much faster, rather than being tied up longer by traditional repair crews who make more noise and create more dust and disturbance.
For small jobs such as this we generally stay within the central Florida area e.g. Sarasota, Manatee, Bradenton,Tampa, Nokomis, Venice areas. However, if you have multiple repairs, we do consider going further afield.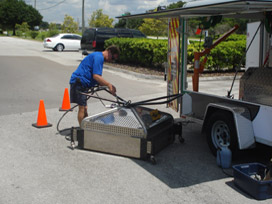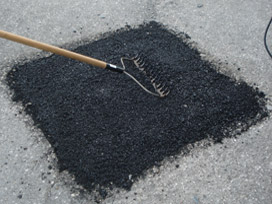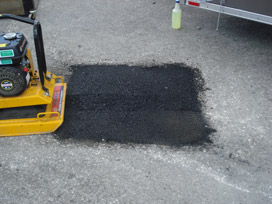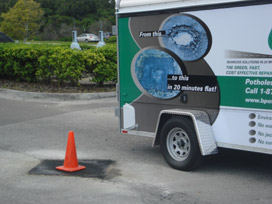 Overlays/Resurfacing
Sometimes it is feasible to install a new layer of asphalt over the existing pavement. This process is know as pavement resurfacing / overlay / asphalt overlay or pavement overlay.  Typically this layer is between 1.5 and 2 inches in depth. This option is used when the asphalt is heavily oxidized but the subgrade (base) is considered to be in a good stable condition. Core samples can be taken of potential suspect areas for evaluation to determine the subgrade condition.
It is sometimes possible to overlay on asphalt that has linear cracks ( these are cracks that nearly form a straight line) In cases like this we fill the crack with a hot rubberized sealant.
If the car lot has extensive cracking, particularly alligator cracking we recommend full pavement reconstruction not just resurfacing. Full pavement reconstruction is when the asphalt is actually excavated out and a new mix is added. Sometimes the asphalt can be recycled which we try to do whenever possible for environment reasons.